DERMATEST




SKIN COMPATIBILITY



The skin compatibility of the WEISSMOOR care products was investigated during a four week skin application test. A total of 20 female test persons aged between 25 and 70 tolerated the preparations very well during the test series based on dermatological clinical criteria.

The WEISSMOOR care products did not lead to any incompatibility symptoms, even in test persons with particularly sensitive skin tending towards atopic conditions. Both Dermatest and the test persons certified the WEISSMOOR products with a

SENSITIVE EFFECT

.

The WEISSMOOR INTENSIVE REGENERATING CARE SERIES with the

A

RCTI

C

ARE™

W

HITE MOOR-

E

XTRACT regenerates, calms and strengthens the resistance of the skin.


persons. The preparations were tolerated

VERY WELL

and did not lead to any incompatibility in any of the test persons.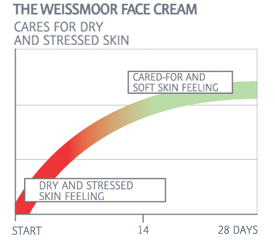 The

WEISSMOOR SKIN CARE

was verified by the female test persons during the test as providing particular care for dry and stressed skin. The skin felt cared-for and soft after four weeks of application.

At the end of the test series, the

WEISSMOOR BODY CARE

was certified to have a calming effect. Dry and taut skin feeling was significantly relieved. The skin appeared relaxed and silky.